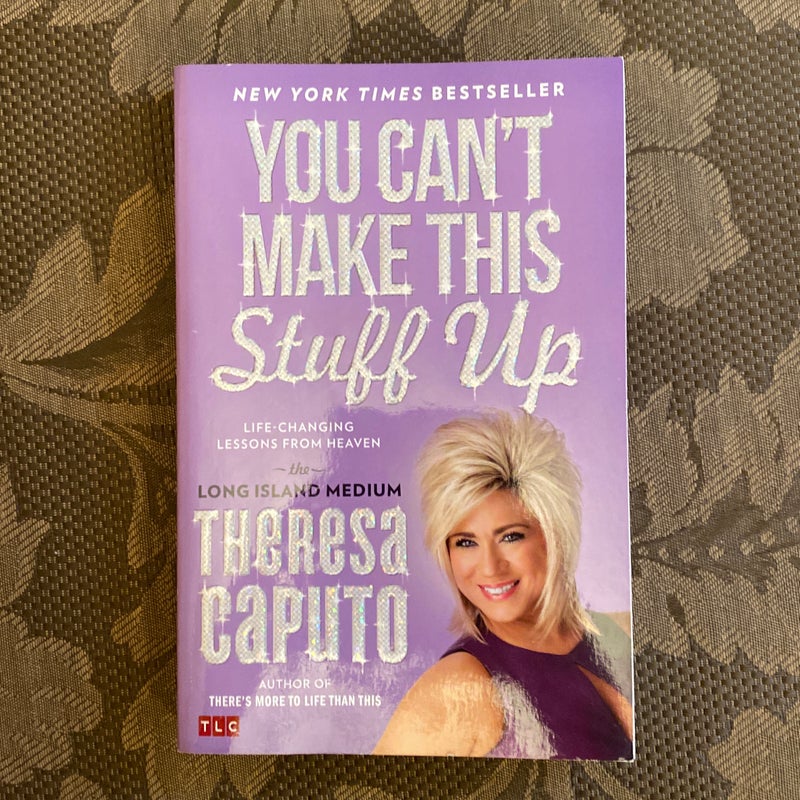 Category

- Non Fiction / Biography & Autobiography
Format

- Paperback
Condition

- Excellent
Listed

- 2 years ago
Views

- 10
Wishes

- 1
Ships From

- New Jersey
Est. Publication Date

- Sep 2015
Seller Description
#paperback#nonfiction#autobiography#biography#medium#Caputo#longisland#longislandmedium#lessons For fans of TLC's Long Island Medium and anyone interested in the big questions of life, death, and everything in between, New York Times bestselling author and medium Theresa Caputo shares the insights and lessons she's learned through her exceptional gift of communicating with the dead. In her first book, There's More to Life Than This, Theresa shared how she discovered her gift and her many encounters with Spirit. Now, in You Can't Make This Stuff Up, an instant New York Times bestseller, Theresa imparts the life-changing wisdom she's received from Spirit and client readings. Each chapter incorporates a powerful lesson that is made real by Theresa's witty and wise insights. She shares moving client stories and fascinating behind-the-scenes tales from her life and hit reality show to help people find peace and closure and better understand the spiritual world. With lessons revolving around themes such as choice, faith, fear, gratitude, healing, surrender, relationships, compassion, and living each day to the fullest, the book also explores spiritual concepts like angels, heaven, signs, miracles, intuition, dreams, and God. These compelling and healing messages will help guide you toward a happier life by focusing your attention on what really matters to the soul.
Publisher Description
ISBN: 9781476764443
The host of "Long Island Medium" relates the wisdom she has gleaned from spirit and client readings, sharing insights into spiritual concepts and everyday challenges.
Be The First One To Review
Review the book today!
Additional titles by Theresa Caputo
'You Can't Make This Stuff Up' readers also enjoyed: