How to Take Advantage of the Holidays as a Pango Seller
Whether you've been selling books on Pango for a while now or have yet to make a single listing, the holiday season is a great time to take advantage of other people's shopping habits and sell some books. While Black Friday and Cyber Monday have already come and gone, book lovers will still be buying lots of books over the next month, both as gifts for loved ones, and perhaps more likely, as gifts for themselves.
Whatever the case, here are a few tips on how to take advantage of the holiday shopping season and earn a few extra bucks for your own holiday shopping in the process.
1. Add As Much Inventory As You Can
While this may seem obvious, the first step to getting more sales out of the holiday season is to make sure your Pango shop is as fully stocked as possible. Do you have a stack of books you've been meaning to list but haven't gotten around to yet? Now's the time. You can add to your existing to-sell pile by doing an audit of your collection and really asking yourself how much you need to hang onto each book. You could even consider reaching out to friends, relatives, or neighbors to see if they have any books to clear out. Grab a box of their pre-read books, list them on your Pango shop, and split the proceeds. Even if they seem like books you normally wouldn't sell yourself, you never know who may be looking for that obscure or seemingly random title.
As you may have already experienced, the PangoBooks app makes it super quick to get books listed. When you have a big stack to get through, try to be systematic. Clear out an hour, set up a great space for taking photos, and approach it like an assembly line. You'll be surprised how quickly you can add dozens of new books to your shop in no time at all.
2. Update Existing Inventory
If you already have some books listed that have yet to sell, it's worth taking a few minutes to review and update them. Are the photos on your older listings darkly lit or blurry? Use the PangoBooks app to add some new images. Is your price perhaps a little high for the current market on that title? Try lowering a bit to see if that attracts a buyer. Pro-tip: when you lower the price on a PangoBooks listing, it'll reshare that book to the main feed page of the app, which will earn your listing a bunch of new eyeballs. We also recommend adding some more hashtags to your description, which will help get your books into the right search results.
3. Add a Shipping Bundle Cost
A great way to earn more sales any time of year is to encourage buyers to buy more than one book from you at a time. On your PangoBooks account on the app, you can create a free shipping offer for folks who buy a certain dollar amount of books from you which incentivizes them to buy multiple books at a time.
Here's how to set that up: Open the Pango app, click on your account screen, then under "my settings" on the account menu you'll see an option to set your free shipping minimum. Just click that and choose the free shipping price threshold you'd like to add to your shop.
4. Make Sure You Have Ample Packing Supplies
No one wants to be in a situation where you sell a bunch of books and then have to scramble to find bubble mailers, boxes, and tape. It's worth grabbing some extra supplies that can easily be found online or at an office supply store. Maybe grab a printer cartridge for shipping label printing needs while you're at it.
For a whole lot more on shipping tips and best practices, check out our recent guide to shipping books here on the PangoBooks blog.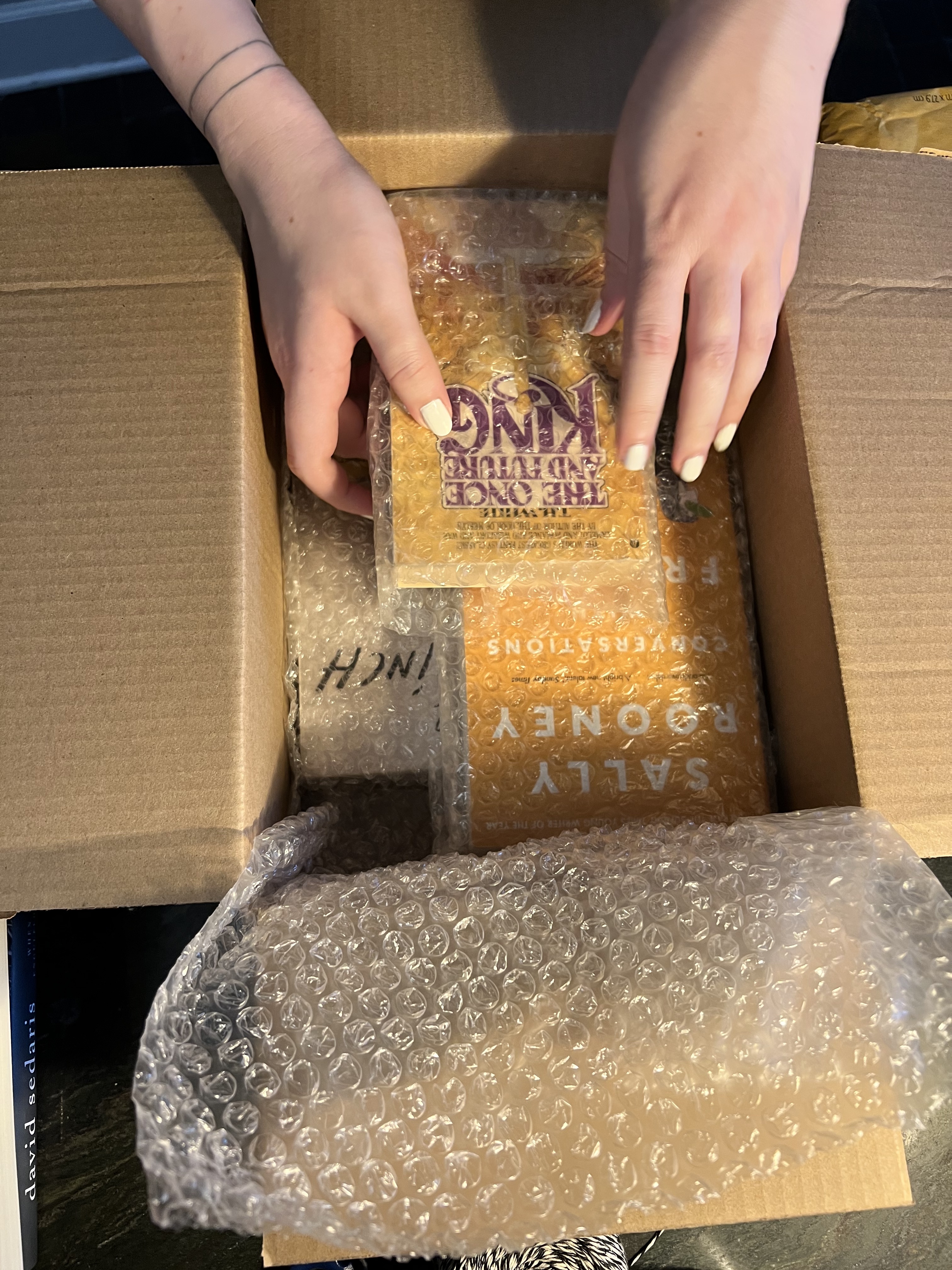 5. Let Other Folks Know About Your Books!
Now that your shop is fully stocked and you are all set with shipping supplies, you can focus on getting the word out there. While there are tons of people browsing Pango for books every day, you can really maximize the possible buyers visiting your shop page by sharing it directly to your friends and family on your social media accounts. Be sure to tag @pangobooks when sharing your shop link (which you can find in the top left corner of your account screen on the app), so we can reshare with our followers as well.
You can also mosey on over to the Threads section of the PangoBooks app and communicate with other Pangoers about the books you have to offer. It's an amazing community and a great way to connect with other passionate readers.
That wraps up our quick guide to getting the most out of the holiday season as a Pango seller. Let us know if you have any questions or feedback at all, and thanks as always for selling with us. One final note: if you're going to be traveling at all over the holidays and unable to ship out books, you can set your shop on vacation mode through the account menu on the app.
Other Blog Posts For Pango Sellers: